Ministry of Foreign Affairs implementing agencies
In 2008, the French Ministry of Foreign Affairs and International Development launched a reform processbased on the objectives set during the General Review of Public Policies process and in the White Paper on France's Foreign and European Policy, published in July 2008.
This reform increased the clarity and efficiency of French soft diplomacy: :
the coordination and strategy-setting role of the Ministry's central administration was confirmed (creation of the Directorate-General of Global Affairs, Development and Partnerships in March 2009) ;;
policy implementation was assigned to operators.
What is a State operator?
To be described as a State operator, a legal person, whatever its legal status, must:
perform a public service activity that is explicitly linked to the implementation of a policy defined by the State;
receive most of its funding from the State, either directly via subsidies or indirectly via allocated resources, especially tax revenues;
be directly supervised by the State. Rather than being limited to economic or financial matters, this supervision must extend to guiding strategic decisions, which may or may not mean involvement in the board of directors.
Overview of the operators of the French Ministry of Foreign Affairs and International Development (MAEDI)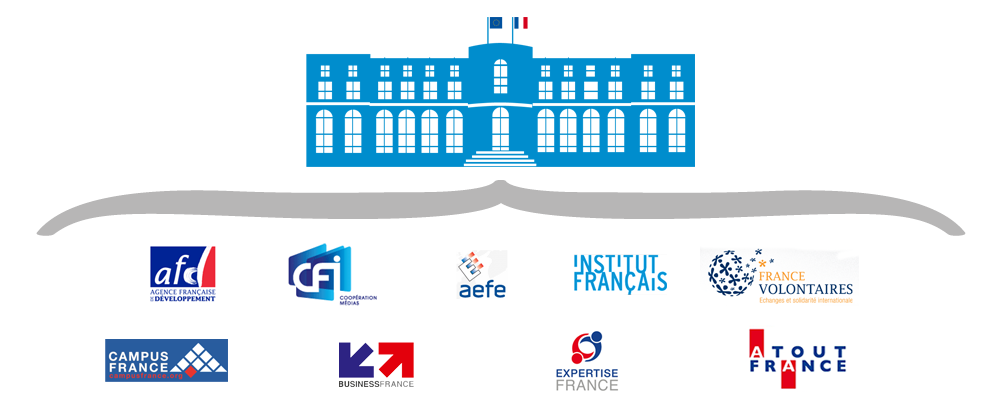 The MAEDI supervises nine establishments, independently or with other government departments. These operators work in various strategic areas covered by the MAEDI:
Development assistance
Agence Française de Développement (AFD)
The Agence Française de Développement (AFD), a public agency that is central to French cooperation, works to combat poverty and foster the development of countries of the South. It also promotes social and economic growth in Overseas France. AFD is responsible for funding projects, programmes and studies and helping the developing countries with which it is partnered to build their capacities. It is supervised by the French Ministry of Foreign Affairs and International Development, the French Ministry of the Economy, Industry and the Digital Sector, the French Ministry of Finance and Public Accounts, and the French Ministry for Overseas France.
AFD website
Canal France International (CFI)
For 20 years, Canal France International (CFI) has been the operator for French audiovisual cooperation with Africa, the Mediterranean, the Balkans, the Caucasus and Asia. As a subsidiary of the France Télévisions group, CFI leads a network of partners from the media sector.
Building on its previous experience as a television channel, CFI is able to identify their needs and offer appropriate solutions, whatever their working language. CFI also supports the discussion process and strategic choices of its partners in their switchover to new digital media.
Expertise France
Expertise France is the French agency for international technical expertise created by the merger on 1 January 2015 between six French technical assistance operators (FEI, ADETEF, ADECRI, SPSI, ESTHER, INTER).
Its role is to help implement French policy on cooperation, development assistance and economic influence.
Expertise France endeavours to meet the growing demand in developing, emerging and European neighbourhood countries for expertise in building public policies and addressing institutional, economic, demographic, social and environmental challenges.
Expertise France website
France Volontaires
France Volontaires is a platform for international solidarity volunteering. Founded on 1 October 2009, it aims to promote and develop different types of commitment within the framework of International Volunteering for Exchanges and Solidarity (VIES) and contribute to their implementation. It is responsible for providing information and guidance to the actors involved (candidates, volunteers, host organizations and sending organizations). With its expert knowledge of volunteering, it helps to mobilize national governments, local governments and associations. In this way, France Volontaires contributes to forecasting and monitoring in this field.
France Volontaires website
Foreign trade and tourism
In April 2014, the Ministry's remit was broadened to include foreign trade and tourism.
Atout France
Atout France, the French tourism development agency, was set up under the Act of 22 July 2009 on developing and modernizing tourism services. It is responsible for contributing to the development of the tourism industry, which is the largest sector of the French economy. Thanks to its thorough monitoring and analysis of the international tourism market, the agency is able to support tourism professionals throughout every stage of the production process: from design and development through to commercialization. The three main objectives pursued by the agency are to promote tourism in France, carry out tourism engineering projects, and implement a policy to boost the competitiveness and quality of businesses in the industry. It sets the national strategy for promoting France as a tourist destination, based on guidelines set by the State, and is supported by a network of more than 400 collaborators in France and abroad, as well as 35 offices in 32 countries.
Business France
The merger between the Invest in France Agency (IFA) and UBIFRANCE, the French agency for international business development, was announced on 17 February 2014 by the President of the French Republic and took place on 1 January 2015, with the creation of Business France.
The goal of Business France is to boost exports, especially those of French SMEs, and make French territory more attractive to international investors. The agency will also put forward and implement a strategy on communications and influence, to promote France's economic image abroad.
Business France is a new tool to support the economic diplomacy that the MAEDI has been developing since 2012.
Business France website
Culture, education and the French language
Institut Français
As the MAEDI's key operator for cultural diplomacy, the Institut Français is charged with promoting France's cultural action abroad, including artistic exchanges, visual arts, architecture, cinema, ideas and knowledge.
In doing so, it helps to strengthen France's influence worldwide and to encourage international cultural exchange. The Institut Français also promotes the French language abroad, as well as providing training and support for French cultural network staff.
Institut Français website
Agency for French Education Abroad (AEFE)
The Agency for French Education Abroad (AEFE), which was set up in 1990, fulfils public service duties regarding the education of French children living outside France and helps to raise the profile of the French language and culture, as well as strengthening relations between the French and foreign education systems. The AEFE's objective is to serve and promote a school network which is the first of its kind in the world, bringing together 488 schools based in 130 countries.
AEFE website
Campus France
The Industrial and Commercial Public Establishment (EPIC) Campus France was created by the Act on external State action of 27 July 2010 and its implementing Decree of 30 December 2011. It is an operator of the French Ministry of Foreign Affairs and International Development (MAEDI) and the French Ministry of National Education, Higher Education and Research, for supporting France's attractiveness policy. Campus France was created by merging the Egide Association with the Public Interest Group (GIP) CampusFrance, and took over the international activities of the National Student Support Centre (CNOUS) on 1 September 2012.
The main objective of Campus France is to simplify French procedures for the reception of foreign students and researchers in an increasingly competitive environment;
to support the development of international academic and scientific mobility by promoting training programmes and ensuring student guidance and reception of students in mobility programmes and seeking to invite teachers, teaching researchers and researchers;
to improve academic and scientific attractiveness and mobility;
to improve the conditions for the reception and stay in France of foreign students;
to manage French government scholarships and foreign government scholarships granted to foreign students staying in France on an individual or group basis for the purpose of training, gathering information or research;
to organize visits and conferences by foreign personalities invited to France by the French public authorities, and their travel in France in connection with international cooperation activities, and visits by French experts abroad on behalf of the State to carry out advisory, training, expertise or technical assistance missions.
Regarding French government scholarships, in addition to the Eiffel and Excellence-Major excellence programmes, Campus France manages all scholarships of the Ministry of Foreign Affairs and International Development (granted by diplomatic posts and the Central Administration) and the scholarship programmes entrusted to the Ministry by foreign governments.
Campus France priorities are:
improving the reception of foreign students;
accompanying higher education and research institutions in their international development through:
events to promote higher education in France and abroad,
responding to calls for proposals,
services proposed by the higher education institution to Campus France Forum members,
Campus France surveys and assessments of student mobility and higher education systems worldwide.
Actions by Campus France, which is a key instrument for promoting student mobility, are, overall, expected to increase the number of foreign students in France in coming years, while preserving the quality of their reception.
Those extended missions, which cover the entire process of reception of foreign students in France, help to better address international challenges relating to the sharp increase in the number of students in mobility programmes worldwide.
To operate efficiently, Campus France relies on the network of Campus France offices which are placed under the authority of French ambassadors. The network consists of more than 300 people in 182 offices and 110 countries in Asia, the Americas, Europe, the Middle East and Africa (figures as at 30 December 2012). In 31 countries, Campus France offices operate with the online CEF (Centre pour les Études en France) system. Campus France offices (with or without the CEF online system), are an integral part of French cultural institutions abroad (French Institutes and Alliance Française branches) and placed under the authority of cultural services in embassies.
Campus France website
Last updated: 12.01.15