Mondes, les Cahiers du Quai d'Orsay #6: New major emerging contries?
Share
Beyond the major emerging powers like China, India and Brazil, what place and role might new emerging powers such as Indonesia, Thailand, South Korea or Argentina fulfil?
For François Godement, "emergence" results first and foremost from these countries' successful integration into the globalisation process. These new emerging countries are very diverse, but all have experienced strong growth over the past decade, in part thanks to the rise in commodity prices. Because they are not as massive as the continent-sized BRIC countries, they could be more sensitive to the merits of multilateralism and the need to develop stronger international norms and standards.
Jean-Pierre Asvazadourian, Philippe Zeller, Valérie Gelézeau and Jacques Huntzinger focus respectively on Argentina, Indonesia, South Korea and the Mediterranean countries, highlighting not only their strengths and weaknesses, but also the way in which these countries perceive themselves and their place on the international stage. Through their analyses, the authors lead us to reflect on the trajectories of development and the attributes of power in the 21st century.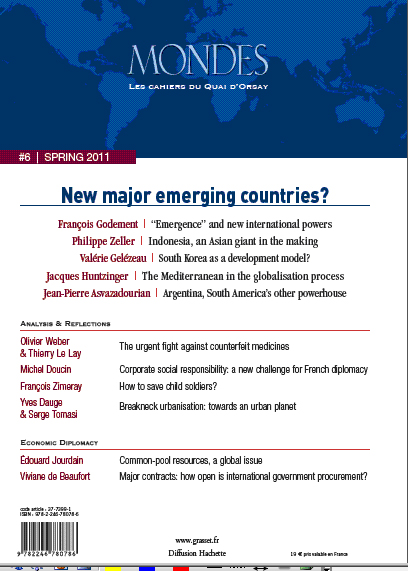 Read the editorial and the contents of the #6 issue "New major emerging contries?"
Read more about Mondes, les Cahiers du Quai d'Orsay
/B_liens_utiles>