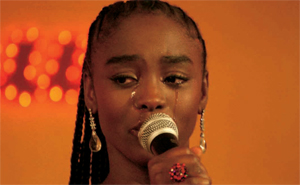 Photo: Emmanuel Bacary Daou
The aim of the Plan Images Afrique is to encourage the production and distribution of African images in sub-Saharan Africa. [1]
Making a direct contribution to the efforts of the countries of sub-Saharan Africa to produce and distribute their own images, the French Ministry of Foreign Affairs launched this initiative in 2004 in order to provide a visible and practical demonstration of France's concern to take action everywhere in favour of cultural diversity.
Using financing mechanisms that directly benefit creative artists, film production and distribution companies, as well as African television channels, both public and private, and audiovisual training structures, the goal of this plan is to help African industry professionals win back African audiences and, through this, to contribute to the emergence of a genuine audiovisual economy on the continent.
The French Ministry of Foreign Affairs has mobilised resources with three main focuses: professionalisation, production of films for cinema and audiovisual programmes and dissemination (film distribution to local cinemas and modernisation of broadcasters).
The Plan Images Afrique in figures from 2004 to 2006
Television
Production
The committee examined 354 projects in the "Television" category.
100 grants were allocated to 94 projects within the framework of the Fonds Images Afrique between 2004 and 2006:
83 production grants, representing a total of €2 397 000.
These were:
28 documentaries

17 dramas

34 series

2 animated films

1 magazine

1 series of plays.
The authors of 17 of these projects (11 for documentaries, 4 for drama and 2 for series) benefited from training or supervision by experienced scriptwriters.
In total, 372,30 hours of programmes were produced with the support of the Fonds Images Afrique.
Professionalisation
Training courses are conducted in African vocational training centres: Imagine in Ouagadougou, the Nafti in Accra, the Centre de Formation Professionnelle de l'Audiovisuel in Yaoundé, the CIRTEF centre in Cotonou, etc.
Within the framework of the Fonds Images Afrique, 65 professionals benefited, between 2004 and 2006, from training in scriptwriting (documentaries, drama, television series), production and sound recording.
Within the framework of the Television Support Plan, 96 television executives followed seminars or training courses on themes defined by the directors general of the 12 channels involved in the Television Support Plan: marketing and commercial management of television channels, programming, production, management, setting up production management, and channel identity.
Cinema
Production
The "Cinema" committee examined 130 projects.
36 feature films benefited from funding for production for a global amount of €2 450 000.
Experienced scriptwriters supported 26 projects.
Professionalisation
The Ministry supported:
5 basic training sessions run by African institutes for 60 students (script, editing, production, direction).
Vocational training in Africa for 85 professionals from the film industry in the following sectors: digital production and directing, training for trainers, scriptwriting, distribution and broadcasting, maintenance.
Distribution
Within the framework of the Africa Cinémas programme, 21 film theatres benefited from funding for equipment and programming.
15 African films were supported with aid for distribution in sub-Saharan Africa
The Ministry supports A dozen festivals in Africa and France highlighting African film production.

[1] South Africa, Angola, Benin, Burkina Faso, Burundi, Cameroon, Cape Verde, Central Africa, Comoros Islands, Congo, Ivory Coast, Djibouti, Eritrea, Ethiopia, Gabon, Gambia, Ghana, Guinea, Guinea Bissau, Equatorial Guinea, Kenya, Madagascar, Mali, Mauritania, Mozambique, Namibia, Niger, Nigeria, Uganda, Democratic Republic of Congo, Rwanda, Sao Tome and Principe, Senegal, Sudan, Tanzania, Chad, Togo, Zimbabwe