Bonjour India is back! Riding the wave of success of the first edition of Bonjour India (2009-2010), the Embassy of France in India and the Institut Français en Inde, in association with the Alliance Française India network and the Indian Council for Cultural Relations (ICCR), are all set to unveil the second edition of the festival from January to March 2013.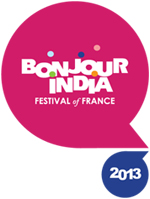 From Jaipur to Kolkata, Delhi to Trivandrum, via Mumbai, Chandigarh, Nasik and several others, a total of sixteen cities will play host to over a hundred outstanding cultural events. These will encompass the entire gamut of people-to-people exchanges between India and France: art, literature, cinema, education, sports, architecture, fashion, photography, performing arts.
Giving pride of place to original productions jointly conceived by Indian and French artists for this edition of the festival, Bonjour India 2013 presents:
puceoupas Luminocity, the inaugural event by light sculptor Patrick Rimoux and Nandita Palchoudhuri transfiguring reality;
puceoupas Indo-French designer duo Hemant Sagar and Didier Lecoanet;
puceoupas Ballet Preljocaj on a stage designed by Subodh Gupta;
puceoupas Eric Vigner casting Nandita Das in Marguerite Duras' play India Song;
puceoupas Composer Pierre Thilloy and the Avignon Symphony Orchestra in an original performance with sarod maestro Ustad Amjad Ali Khan;
puceoupas A global platform of choreographic navigation for ipads and iphones by French choreographers N+N Corsino with Indian dancers Revanta Sarabhai and Pooja Purohit.
puceoupas "Flying angels", directed by Stephane Girard and the late Pierrot Bidon, a spectacular performance recently seen at the Olympics to enthrall the public with aerial acrobatic dance transforming the open skies into circus tents.
Other festival highlights include exhibitions on urban development and sustainable architecture, photography and painting exhibitions by Anay Mann and Gigi Scaria respectively revisiting French heritage in India, and the analogue-digital-acoustic-electronic signature music of Scratch Bandits Crew.
During the festival, there will be a strong French presence at major literary events in India: France is the Guest Country for World Book Fair 2013 in Delhi, while Prix Goncourt laureate Tahar Ben Jelloun (2007) will participate in the Jaipur Literature Festival. Albert Camus' birth centenary will also be celebrated across India through a series of events.
Innovation to fashion and new trends, revisiting the past (baroque music interpreted by Amaryllis Dieltiens), navigating the present and fast-forwarding to the future (Greater Paris architecture exhibition on creating sustainable futuristic cities), discovering higher education options, the eclectic offerings of Bonjour India 2013 promise something to delight everyone's palate. Reflecting the longstanding ties of friendship between France and India, the events will express our common passion for the arts, be a rich nurturing ground for new encounters, and inscribe yet another significant chapter of the relationship of the two countries.
France wishes you a happy festive season and says, BONJOUR INDIA!
Read More :