Mondes, les Cahiers du Quai d'Orsay #9: Challenges and Vehicles of Soft Diplomacy
Share
The place of a state on the international stage is measured by the yardstick of its economic power and military strength but also by virtue of its attractiveness and its ability to project values or to influence the structure of the global order. According to Nicolas Tenzer, this soft power of influence is exercised more specifically by contributing to the framing of norms by the international organisations and the capacity to feature among the leading international experts and within the academic and mediatic spheres.
With this in mind, Guillaume Devin stresses the importance for states to ensure the coherence of their positions in the different multilateral bodies. Such coordination makes it possible, in particular, to be influential in helping define the business environment which, according to Laurence Badel, is one of the thrusts of French economic and commercial action at the international level.
Cyrille Pierre, for his part, looks into the current reflection in France on international expertise – an area where competition between states is fierce. Lastly, based on the example of the ENA, Maxime Lefebvre discusses the strategic dimension of intellectual debate, of training and educating administrators, and of current thinking on public policy.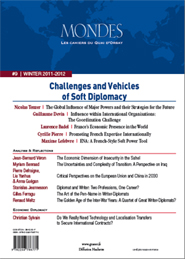 Available in bookstores or by subscription
Item code: 38-0191-7
ISBN: 978-2-246-78677-1
Price: 19 euros
216 pages
Read more about Mondes, les Cahiers du Quai d'Orsay
/B_liens_utiles>