Mondes, les Cahiers du Quai d'Orsay #7 : Building Peace
Share
If we tend to be more inclined these days to use the term 'conflict' rather than 'war', this is a sign that, since the end of the Cold War, the protean nature of international conflicts has become more pronounced, dividing not only states, but also non-state actors, and creating large zones of instability.
In this new context, Serge Michailof uses the Afghan example to highlight the complexity of conflict prevention and reconstruction, which calls for the development of new approaches.
Indeed, although the search for peaceful solutions has always been at the core of diplomacy, a great deal of attention is now directed at the consolidation and development of post-conflict states. Testimony to this, according to Gérard Araud, is the changing role of the UN and its peacekeeping operations, which have grown fivefold in ten years.
This process is accompanied by conceptual discussions - taken up by Charles Girard and Sami Makki - on the way in which we design reconstruction and coordinate the actions of the military and civil society actors (governments, international organisations, NGOs and businesses).
Lastly, Luc Lévy revisits the recent history of the Balkans and recalls that attempts to build peace cannot overlook slow efforts towards reconciliation and the confrontation of memories.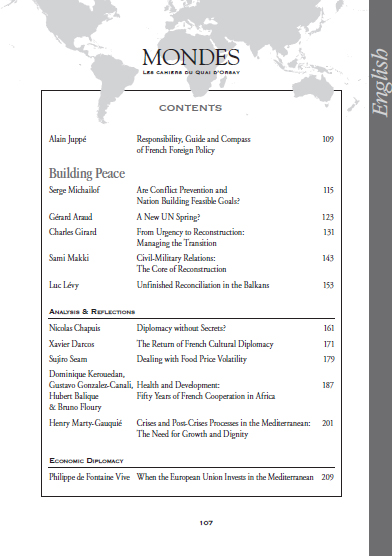 Read more about Mondes, les Cahiers du Quai d'Orsay
/B_liens_utiles>