The objectives
To integrate this decentralised cooperation into a development approach centred on local-level progress, since sub-national areas (regions, metropolitan areas, hub-cities, rural communities) are deemed relevant and recognised as drivers of land planning strategies, economic development and social cohesion; to recognise the reciprocal nature of this cooperation so that input from all partners and the contribution made by communities from these partner countries can be incorporated into the search for solutions to the challenges faced by French cities and districts.
To recognise and utilise the expertise and know how of our communities, their elected officials and administrators, by focussing on institutional strengthening, sustainable territorial development (Agenda 21), local public finances, training and services for citizens. To promote solutions that take their inspiration from France but which are tailored to the partners' situations.
The French Development Agency (AFD)

For more than sixty years, AFD, which operates under the aegis of the Ministry of Foreign and European Affairs (MAEE), has been working to combat poverty and foster development in countries of the South and in French Overseas Territories.
AFD aims to boost partnerships between local bodies in France and their counterparts in the South and encourage the development of the latter. Whenever the Agency initiates a project, it ensures that the French local body which is already a partner to the local body for which the project is designed is as closely involved as possible. If the recipient local body has not yet entered into a partnership with a French counterpart, AFD identifies one that could offer pertinent support. AFD signs partnership agreements with those French local bodies that are strongly involved in decentralised cooperation.
Website : www.afd.fr

To encourage decentralised cooperation in terms of development of local authorities, focussing on the area of local governance and economic development (including agriculture and food security), through requests for project proposals. To seek contracting partnerships between local authorities and AFD, which tailors its modus operandi so as to facilitate these partnerships.
To offer priority support to decentralised cooperation in the areas where France is specialised: sub-Saharan Africa, the Mediterranean and French-speaking areas; to foster regional approaches that could cover several countries in the area (Niger River, the Balkans, etc.).
To ensure that the commitments stemming from the European Development Cooperation Charter in Support of Local Governance (2008)turn into concrete results.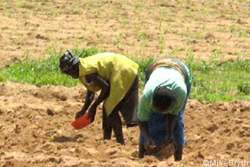 To dovetail local authorities' international activities with France's bilateral action in emerging countries with which France has a strategic partnership, favouring a mode of reciprocity built around the issues of sustainable development and the dual notion of France's ability to "in?uence-attract" - in connection, also, with Invest in France (IFA).
To put France's European commitment into practice, in intra-Community relations (or intra-continental relations), especially as regards cross-border cooperation, and making greater use of European funding; to take into consideration the specific role played by French regional bodies overseas in their geographical areas.
To strengthen France's economic presence, focussing on local authorities' specific scope of activities and comparative advantages, in association with the Ministry of State for Foreign Trade and the agency for international trade, Ubifrance.
To mobilise the cultural diversity of French regions, supporting the activities of their communities and elected officials in favour of international cultural exchanges, in partnership with the future Cultural Agency which should offer a framework of consultation and long-term joint action with local authorities.
Updated on September 2010
---
Useful links