Two examples of Priority Solidarity Funds (FSP)
Share
Gender and economic development This Priority Solidarity Fund, endowed with €3 million, takes action in three areas :

support for promising economic projects ;

reinforcement of the technical and organizational capacities of women and women's organizations ;

support for advocacy in favor of increased female participation in governance and improved integration of gender in policies to fight poverty.
Eleven projects in seven West African countries (Benin, Burkina Faso, Mali, Niger, Democratic Republic of the Congo, Senegal and Togo) are being conducted by fourteen French NGOs in two promising economic sectors :

food processing ;

cottage industries and small business.
Pro-activism in West Africa The "Gender and economic development" Priority Solidarity Fund in West Africa, launched in October 2009 by Alain Joyandet, French Secretary of State for Cooperation and Francophonie, aims to promote the personal, economic and decision-making empowerment of women in food processing and entrepreneurial jobs in West Africa. The integration of a gender equality approach shed light on the following facts :

women work on average 17 hours a day compared with 10 hours a day by men ;

they have less access to resources and land ;

they are under-represented in professional bodies. Training and advocacy activities are carried out in partnership with men to reduce these inequalities, so that women can be fully recognized as active contributors to development.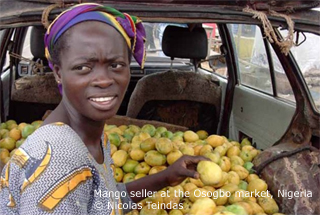 Updated: 06.09.10
/B_liens_utiles>