Knowledge and expertise
Share
Presentation
Independent and multi-disciplinary expertise working for food security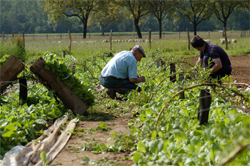 As part of CFS reform, the HLTF needs to take steps to create synergy between existing scientific projects and field experience of stakeholders concerned by food security. To do so, it can be guided by the multi- disciplinary and foresight methods developed by the International Assessment of Agricultural Knowledge, Science, and Technology for Development (IAASTD). France and the European Union would like to see the HLPE swiftly provide information on the challenges of volatile prices, climate change and access to land.
In France, the Interministerial Group on Food Security leverages the broadest possible range of expertise to elaborate with our positions on the Global Partnership on Agriculture, Food Security and Nutrition. It focuses its work on climate change, volatile prices (drawing on the work of the Group on Research and Exchanges on the Regulation of Agricultural Markets-GREMA) and large-scale land acquisition (in collaboration with the Land and Development Technical Committee).
Government administrations (Ministry of Foreign and European Affairs; Ministry of Food, Agriculture and Fisheries; Ministry of Ecology, Energy, Sustainable Development and the Sea; Ministry of the Economy, Industry and Employment, Ministry of Higher Education and Research) along with the French Development Agency, research institutions, foundations (Foundation for World Agriculture and Rural Life - FARM) and NGOs (Coordination Sud represented by members of the humanitarian, agriculture and food commissions) take part in this Interministerial Group.

A policy of excellence for research and expertise to ensure food security
The International Agricultural Research Commission guides the French system of international agricultural research, which is internationally recognized for its excellence. The system includes world-renowned institutions, like the French Agricultural Research Centre for Development (CIRAD), the French National Institute for Agricultural Research (INRA) and the French Research Institute for Development (IRD) as well as concerned ministries. It relies on world-class research hubs, including the city of Montpellier, which hosted the first Global Conference for Agricultural Research for Development (GCARD) from 28 to 31 March 2010 and will host the headquarters of the Consortium of CGIAR as of 2011.
Updated in December 2010