COP21 - FACTS - French Ameri-Can Climate TalkS
Building up to the United Nations Climate Change Conference to be hosted by France in December 2015 (COP 21-Paris Climate 2015), FACTS (French Ameri-Can Climate TalkS) is an event organized by the Embassies of France in both Canada and the United States.
Contents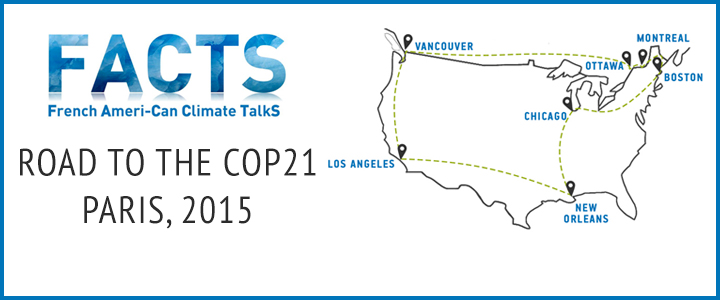 Presentation
In preparation for the United Nations Conference, it seems important to consider the challenge of climate change not only in the context of a shared emissions burden but also as an opportunity to create employment, economic growth and innovative modes of production and consumption. FACTS aims to mobilize French, American, and Canadian public opinion on the issues of the conference and reinforce the dialogue between experts from these countries.
FACTS is a public conference series planned to take place in seven cities in the United States and Canada involving renowned scientists, civil society representatives, NGOs, political figures, journalists and entrepreneurs.
A panel of three French and three American or Canadian figures (panel members to vary in each host city) will discuss climate change issues. A reputable journalist will act as a moderator. All FACTS conferences will be public and covered by the press, taking place in locations of symbolic importance to the worlds of science, the environment, or innovation.

A World War 2 Blockhaus threatened by erosion on the west coast of France (CNRS/Hélène Howa)
Program
October 6th, 2014 - Montreal : Villes et dérèglement climatique. Place aux opportunités!
October 7th, 2014 - Ottawa : Climate Change – The Great Challenge and Opportunity of Our Time / Changement Climatique – Le Grand Défi et une Opportunité de Notre Temps
October 8th, 2014 - Chicago : Towards A Positive Agenda in Climate Change
October 9th, 2014 - Boston : The Impacts of Climate Change
November 10th, 2014 - New Orleans : The scientific assessment - what are the risks to expect from climate change? Local and national policies to prepare to the consequences of climate change.
November 12th, 2014 - Vancouver : Can Green Innovations Solve the Climate Change Challenge?
November 14th, 2014 - Los Angeles : Climate Ready Cities: Taking Action to Mitigate Climate Change and Adapt in Urban Areas

Ice core to study the past composition of the atmosphere (CNRS/Bruno JOURDAIN)
Read more:
FACTS - French Ameri-Can Climate TalkS - website

Detailed Program

21st Conference of the Parties on Climate Change 2015
---