Awarding of the Simone de Beauvoir Prize to Malala Yousafzai (January 9, 2013)
The Simone de Beauvoir Prize for Women's Freedom will today, January 9, be awarded to Malala Yousafzai, the young Pakistani campaigner for human rights and girls' right to education.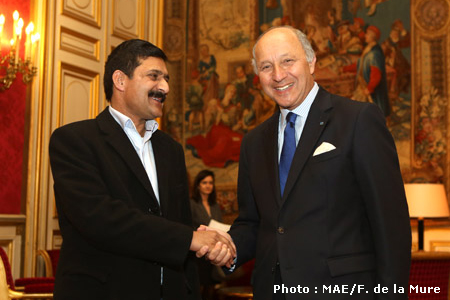 Laurent Fabius, Minister of Foreign Affairs, yesterday received Mr. Ziauddin Yousafzai, the father of Malala Yousafzai, who will receive the prize on behalf of his daughter. Ambassador for Human Rights, François Zimeray, will represent the Ministry of Foreign Affairs on this occasion.
Promoting women's rights and combating violence against women are priorities of France's external action.
France, which strengthened its partnership with UN Women in May, notably participates, in this context, in programs to combat violence in the Arab world and in sub-Saharan Africa, as well as in a program to promote women's access to justice in Afghanistan. It also conducts, in partnership with UNICEF, a program to combat gender-based violence in schools.
---