The Death Penalty around the World
Interactive map: the death penalty around the world (in French)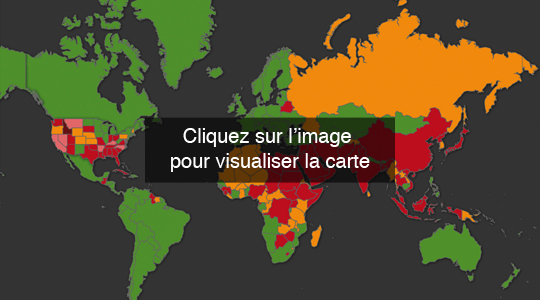 Today, over two thirds of the world's countries have abolished the death penalty in law or in practice. We can observe a downward trend in the number of death sentences and executions worldwide. Over the past 20 years, more than 50states have abolished it in law.
To date, 101states have abolished the death penalty for all crimes, 6have abolished it for ordinary crimes and 34have introduced a moratorium on executions, giving a total of 141states. However, the death penalty is still applied in 58states and territories.
In 2013, 22 states carried out executions. Although the number of countries carrying out executions is falling, according to the latest report by Amnesty International there were 778 executions in 2013, compared with 682 in 2012. 80% of the executions recorded took place in Saudi Arabia, Iran or Iraq. Moreover, it is hard to establish the real figure, given the lack of official statistics in certain countries, such as China.
List of countries
that have abolished the death penalty:
Albania, Andorra, Angola, Argentina, Armenia, Australia, Austria, Azerbaijan, Belgium, Bhutan, Bolivia, Bosnia and Herzegovina, Bulgaria, Burundi, Cambodia, Canada, Cape Verde, Colombia, Cook Islands, Costa Rica, Côte d'Ivoire, Croatia, Cyprus, Czech Republic, Denmark, Djibouti, Dominican Republic, Ecuador, Estonia, Fiji, Finland, France, Gabon, Georgia, Germany, Greece, Guinea-Bissau, Haiti, Honduras, Holy See, Hungary, Iceland, Ireland, Italy, Kiribati, Kosovo, Kyrgyzstan, Latvia, Liechtenstein, Lithuania, Luxembourg, Macedonia, Madagascar, Malta, Marshall Islands, Mauritius, Mexico, Micronesia, Moldova, Monaco, Montenegro, Mozambique, Namibia, Nepal, Netherlands, Nicaragua, Niue, Norway, New Zealand, Palau, Panama, Paraguay, Philippines, Poland, Portugal, Romania, Rwanda, Samoa, San Marino, Sao Tome and Principe, Senegal, Serbia, Seychelles, Slovakia, Slovenia, Solomon Islands, South Africa, Spain, Sweden, Switzerland, Timor-Leste, Togo, Turkey, Turkmenistan, Tuvalu, Ukraine, United Kingdom, Uruguay, Uzbekistan, Vanuatu, Venezuela
that have abolished the death penalty for ordinary crimes
Brazil, Chile, Israel, Kazakhstan, Peru, ElSalvador
that have introduced a moratorium on executions
Algeria, Benin, Brunei, Burkina Faso, Cameroon, Central African Republic, Congo (Brazzaville), Eritrea, Ghana, Grenada, Kenya, Laos, Liberia, Malawi, Maldives, Mali, Mauritania, Mongolia, Morocco, Myanmar, Nauru, Niger, Papua New Guinea, Russia, Sierra Leone, South Korea, Sri Lanka, Suriname, Swaziland, Tajikistan, Tanzania, Tonga, Tunisia, Zambia
that continue to apply the death penalty
Afghanistan, Antigua and Barbuda, Bahamas, Bahrain, Bangladesh, Barbados, Belarus, Belize, Botswana, Chad, China, Comoros, Cuba, Democratic Republic of the Congo, Dominica, Egypt, Equatorial Guinea, Ethiopia, Gambia, Guatemala, Guinea, Guyana, India, Indonesia, Iran, Iraq, Jamaica, Japan, Jordan, Kuwait, Lebanon, Lesotho, Libya, Malaysia, Nigeria, Oman, Pakistan, Qatar, North Korea, Palestinian Authority, Saint Kitts and Nevis, Saint Lucia, Saint Vincent and the Grenadines, Saudi Arabia, Singapore, Somalia, Sudan, South Sudan, Syria, Taiwan, Thailand, Trinidad and Tobago, Uganda, United Arab Emirates, United States, Viet Nam, Yemen, Zimbabwe
Updated on 25.02.15