Ebola virus - France's actions (April 3, 2014)
Graphic: Ebola virus - France's actions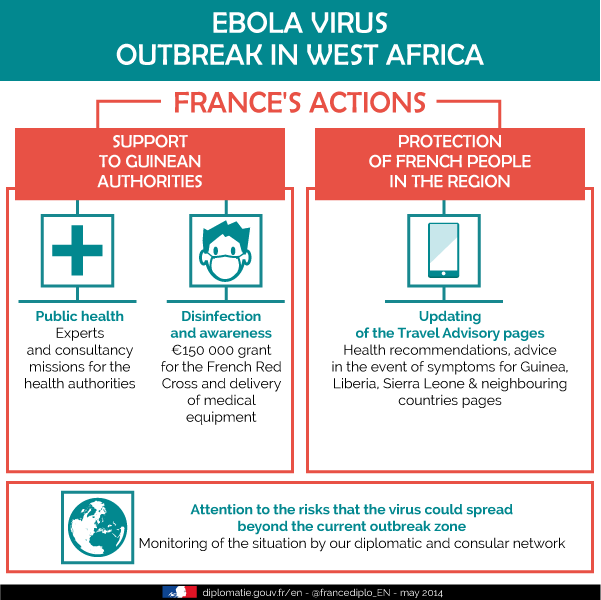 Accessible version of the infographic "Ebola virus - France's actions" - (PDF, 26.6 kb)
France has been fully mobilized to directly help the affected populations
1) Since the Guinean authorities notified WHO on March 22 of an outbreak of Ebola hemorrhagic fever, the Ministry of Foreign Affairs and International Development has been fully mobilized to directly help the affected populations:
an expert from the Institut Pasteur in Lyon will travel to Conakry on Saturday, at the request of the Guinean authorities, with the support of the Crisis Center;
our embassies in Guinea (also responsible for Sierra Leone) and in Liberia are in continuous contact with the health monitoring and health care facilities established in each of these countries;
we support the efforts of WHO on the ground, notably with respect to coordinating the additional resources that have been deployed. The European humanitarian agency, ECHO, has provided €500,000 in emergency aid;
on the ground in Guinea, we are supporting efforts to strengthen the Red Cross teams in order to help them deploy additional health care professionals. In Liberia, Doctors without Borders have, at our request, deployed a specialized team tasked with setting up an isolation center equipped with kits to protect health care workers and to support the teams of European experts already there, notably from the Institut Pasteur. We pay tribute to all of the non-governmental organizations that are doing an incredible job on the ground under difficult conditions.
2) The Ministry of Foreign Affairs and International Development is also mobilized to ensure the protection of our compatriots in the region:
a message was added to the "Travel Advisory" page of the France Diplomatie website for Guinea and Liberia on March 21 and for all of the countries bordering Guinea on March 24. The message includes health recommendations as well as advice in the event of symptoms;
email and text message alerts were sent to French residents and visitors registered on the Ariane assistance system;
in Conakry, the French lycée and the French-Guinean cultural center are operating as normal. This is also the case for most companies established in Guinea. There are currently no plans to repatriate personnel or families.
3) We are mindful of the risk that the virus could spread beyond the current outbreak zone. Our diplomatic and consular network is monitoring the situation very closely. The Ministry of Foreign Affairs and International Development, the health authorities, the Ministry of Social Affairs and Air France are in continuous contact.
---