Spotlight on French-American cooperation
Share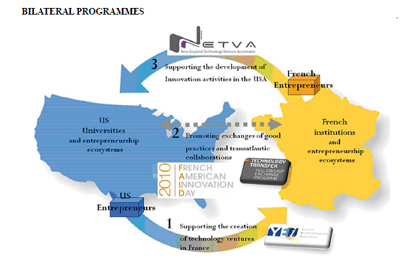 The Science and Technology Mission at the French Consulate in Boston has initiated partnership programmes that have produced promising results.
Young Entrepreneurs Initiative (YEi)
This is a transatlantic platform that supports innovative technology business start-ups in France: project leaders are supported from the United States with access to various resources in France. Under this programme, in which RETIS plays an active role, 40 start-ups have been or are being established in France since 2005.
France-USA Technology Transfer Fellowship Exchange Program (FAT2E)
The C.U.R.I.E. network implemented this programme in 2007 with the aim of facilitating the exchange of best practices for research optimisation and technology transfers between France and the United States. It gives experienced French professionals an opportunity to work for up to three months in an American research optimisation structure.
New-England Technology Venture Accelerator (NETVA)
NETVA is an initiative that supports innovative new French companies seeking opportunities in the United States by providing appropriate training, insight into American entrepreneurship and help for technological partnerships. RETIS is an active member of NETVA, which was awarded the 2010 Economic Initiatives Award by the French Business Press Association.
French American Innovation Day (FAID)
Each year, the best French and American researchers and entrepreneurs gather to discuss a topical issue, exchange views, present research and innovation projects and, potentially, forge partnerships. The 2009 FAID saw Mérieux-Alliance give a grant of EUR 300,000 to a young French researcher for a project involving theranostics.
(December 2010)
Useful links
Publications

France and higher vocational education abroad (July 2011)
Promoting French expertise internationally (June 2011)
France's Action to Promote Innovation (December 2010)
French external action for education in developing countries (2010-2015)
Quality Charter for French Government Foreign Scholars (2008)
/B_liens_utiles>