Bilateral programmes producing real results
Share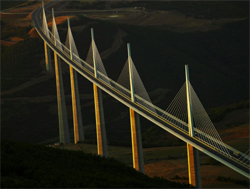 COOPOL France - China Programme
The French embassy in China has run this programme since 2008. It sets up meetings between SMEs from French competitiveness clusters and Chinese technology parks. The purpose of the meetings is to identify and evaluate the potential for cooperation between these structures and their companies.
The Franco-Norwegian foundation for scientific and technical research
For twenty years, this Foundation has developed cooperation on industrial research between companies and technical centres in France and Norway. The Foundation has already provided more than EUR 20 million in financing for projects involving materials, oil and gas, aquaculture and ICT.
Fraunhofer institutes/ Carnot institutes cooperation
France's National Research Agency and Germany's Ministry of Education and Research make joint calls for projects aimed at both countries' networks of institutes with a view to establishing collaborative projects. This promotes relationships between excellent technological research bodies, forges lasting strategic alliances and raises their international profile. This cooperation effort received EUR 10 million in financing between 2008 and 2010.
France-Québec symposium on competitiveness and excellence clusters
The first symposium, held in 2008, gave rise to 70 collaborative projects with 22 clusters present in Quebec and more than fifty French companies. The second symposium held in France in November 2010 focused on health/biotechnology, nutrition and nutraceuticals, aerospace and new technical materials and textiles.
This programme has been in operation since 1978. It promotes technical and scientific cooperation on land transport between the German Mobilität und Verkehrstechnologien research programme financed by the German Ministry of the Economy and Technology and Predit, the French programme that brings together the Ministries in charge of Ecology, Research and Industry, along with the Agency for the Environment and Energy Management (ADEME), OSEO and the National Research Agency (ANR).
(December 2010)
Useful links
Publications

France and higher vocational education abroad (July 2011)
Promoting French expertise internationally (June 2011)
France's Action to Promote Innovation (December 2010)
French external action for education in developing countries (2010-2015)
Quality Charter for French Government Foreign Scholars (2008)
/B_liens_utiles>