France's commitment to UNITAID, the international drug purchasing facility
The UNITAID initiative
UNITAID was launched in September 2006 at the instigation of France and Brazil. It is hosted by the WHO and funds programmes to provide greater access to healthcare products (treatments, diagnostic tests and preventive tools) to combat the three great pandemics: HIV/AIDS, malaria and tuberculosis. UNITAID sets out to correct the imperfections of the free market (high prices, inadequate supply, monopoly positions, etc.) for optimum impact on public health.
In practice, UNITAID aims to bring down prices, speed up the development of better-adapted drugs and improve the quality and availability of health products. Its programmes have contributed to the development of drugs developed specifically for children suffering from HIV, to bringing down the cost of second-line antiretroviral drugs and treatments for multi-drug-resistant tuberculosis, and to making the most appropriate and effective antimalaria treatments more widely available.
Africa is the biggest beneficiary of UNITAID's work, given that at least 85% of UNITAID's drug purchases are directed towards low-income countries
UNITAID is also the instigator of the highly innovative mechanism known as the medicines patent pool, designed to bring generic forms of the latest antiretroviral drugs to the populations of the least developed countries with the least possible delay. Patent holders (pharmaceutical companies, etc.) voluntarily license their patents to the pool for use by generics manufacturers.
UNITAID is largely funded by a levy on airline tickets, although some countries have also decided to make grants towards its budget.
The Executive Board of UNITAID is made up of representatives nominated from the five founding countries (Brazil, Chile, France, Norway and the United Kingdom) and from Spain, South Korea, the African Union, the Gates Foundation, plus a representative for Non-Governmental Organisations, for Communities Living with the Disease and for the World Health Organisation (non-voting) respectively.
France's commitment to UNITAID as one of the founding countries, France has always had a deep sense of commitment to UNITAID. Over the first six year's of UNITAID's existence (2006-2012), France's contributions via the airline ticket levy accounted for over 60% of the organisation's resources.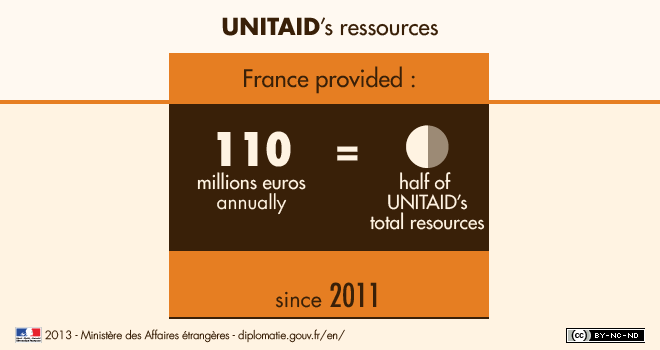 Since 2011, France has contributed half of UNITAID's total resources (€110 million annually).
UNITAID is thus a key component in France's development assistance, which has made combating these three main pandemics a priority. France's commitments to UNITAID are in addition to the funding it provides to the Global Fund to Fight AIDS, Malaria and Tuberculosis and to its advocacy approaches to international bodies such as the Joint United Nations Programme on HIV/AIDS (UNAIDS), Roll Back Malaria (RBM) and Stop TB.
For more information :
Videos and articles on the dinner held on 23 May 2013 with Bill Clinton in Paris, on the UNITAID website

UNITAID website
Updated: 15.03.13
---