Strategic orientations of France
Share
Strategic orientations of France
Goals pursued and indicators of action by France
French action is carried out in accordance with the Strategic Orientation Document validated by the Inter-ministerial Committee for International Co-operation and Development (CICID) in 2007, which focuses on two main goals :
improve the effectiveness, relevance and sustainability of development policies and programs backed by the incorporation of gender equality issues and the balance of power that condi- tions these issues ;

lasting changes in spawn far-reaching and women and men, inthe relationships between order to increase respect for the fundamental rights and freedoms of both sexes and accelerate development in developing countries.
These orientations must lead to improvements in the three most critical areas of women's lives :

access to effective family planning ;

Improved financial independence and well-being through economic factors ;

Opening of doors to public life and participation in governance structures as active contributors to development.
The resulting actions can target women or men as direct players or beneficiaries, and must help reduce gender inequalities. For instance, in the fight against violence, working with men or working to understand the mecha- nisms that lead to violence in men are relevant areas for action.
Furthering the legal framework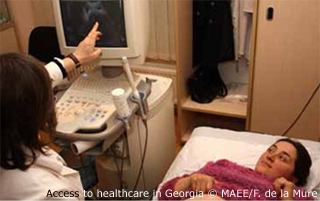 The universality of human rights requires that we improve the situation imposed upon women without further delay.
Despite the international legal framework, there is always a discrepancy between formal and actual equality, and this difference has consequences on women's lives. The reservations made by certain countries before ratifying the Convention on the Elimination of All Forms of Discrimination Against Women (CEDAW) severely limit the convention's application at national levels.
Although international, national and regional regulatory frameworks increasingly refer to the necessity of gender equality, women's rights are sometimes questioned in the name of cultural relativism. It is particularly important to point out that the Universal Declaration of Human Rights needs to be an essential component of poverty reduction strategy papers (PRSP) and the associated programs and budgets.
In November 2009, the Union for the Mediterranean adopted a declaration to strengthen women's role. The Francophone Declaration on Violence against Women was adopted in New York by the International Organisation of la Francophonie (OIF) at the 54th Session of the Commission on the Status of Women in March 2010. These two declarations are new advancements for women's rights.
International, national and regional commitments
1946 : UN Commission on the Status of Women
1948 : Universal Declaration of Human Rights
1961 : International Covenant on Economic and Social Rights
1975-1985 : United Nations Decade for Women
1979 : Convention on the Elimination of All Forms of Discrimination Against Women (CEDAW)
1994 : United Nations International Conference on Population and Development
Cairo Programme of Action
United Nations World Conference on Women and the Beijing Platform for Action (action for equality, development and peace)
Millennium Development Goals (Goals 1, 2, 3 and 5)
1995 : Beijing Plus 10
UN General Assembly on MDGs
UN Security Council Resolution 1829
2000 : Union for the Mediterranean declaration on reinforcing women's role in society
2005 : UN Security Council Resolutions 1888 and 1889 on violence in conflict situations
Beijing Plus 15/OIF Declaration on violence against women
Capitalize on the MDGs
In 2000, the international community set eight Millennium Development Goals. Their 10th anniver- sary will be celebrated as part of the UN review summit taking place alongside the 64th United Nations General Assembly in September 2010.
If the MDGs are achieved, women - the principal victims of the under-development these goals aim to reduce - would see significant improvements in their lives.
Four of the eight MDGs directly concern women :

goal 1 "eradicate extreme poverty and hunger" : between 1990 and 2015, halve the proportion of people living on less than a dollar a day ;

goal 2 "achieve universal primary education" : by 2015, ensure that all boys and girls complete primary school (five years of schooling) ;

goal 3 "promote gender equality and empower women" : eliminate gender disparities in primary and secondary education preferably by 2005, and at all levels by 2015 ;

goal 5 "improve maternal health" : reduce the maternal mortality rate by 75% between 1990 and 2015.
$300 million are currently devoted to promoting women's empowerment. This is equivalent to less than 1% of the United Nations programs budget (around $30 billion per year). In comparison, close to $6 billion annually are devoted to children solely by the United Nations Children's Fund (UNICEF). According to the World Bank, $80 billion are needed over five years to achieve MDG 3: "promote gender equality and empower women."
The maternal mortality rate decreased by 1% per year between 1999 and 2005, which is far from the 5.5% necessary to achieve MDG 5. According to the UN Population Fund (UNFPA), an investment of $23 billion per year is needed to enable women to avoid unwanted pregnancy (2005). The G8 has already made reducing maternal mortality and access to reproductive health care one of its priorities for 2010.
A societal approach
Development assistance must invest more in promoting gender equality.
Gender equality relations vary depending on culture, from one social group to another and within a single culture. They can combine with other parameters such as social class, religion, age or the political status of women in a given country. Internal and external factors continually modify these relations: education, technology, economic policy, job market, armed conflicts, food crises, the nature of society and its interference with religious teachings.
In addition to the need for women's involvement in development programs, intervention in the social rela- tionships between the sexes is also required. Gender equality is based on the construction and distribu- tion of feminine and masculine social roles, which are often characterized by inequalities to the detriment of women.
As opposed to biological gender, the social construction of female-male relations evolves over time and space. It is part of individuals' education and can be evidenced by legal norms: in the confinement of women to the private sphere and men's privileged access to the public sphere; in family law which assigns different rights and obligations based on gender. Women are therefore victims of stereotypes that deprive them of certain functions or attributions (activity/passivity, strength/ weakness).
Gender equality therefore requires framework for sociological analysis and practical, efficient tools, specific programs and systematic integration of this aspect in all development-related programs.
Plan of Action for 2009-2011
In December 2008, Alain Joyandet launched a Plan of Action in favor of gender equality for the 2009- 2011 period. This plan aims to ensure that gender equality is better incorporated into French actions toward development assistance.
To date, €30 million have been allocated :

€21 million from the Agence Française de Développement ;

€6 million from 30 embassies through Social Funds for Development ;

€3 million from central administration via the Priority Solidarity Fund (FSP) "Gender and economic development: women as contributors to development".
The French institutional system receives support from :

the Directorate-General of Global Affairs, which encompasses the Global Goods Directorate, which handles gender equality matters ;

The economic and financial unit of the French Ministry for the Economy, Industry and Employment, which monitors Official Development Assistance at the World Bank ;

the AFD, in charge of bilateral and multilateral implementation.
Actions underway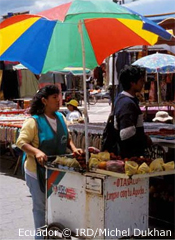 Use of OECD "gender markers" in France's Official Development Assistance declaration ;

Assessment of French action using indicators enabling an evaluation of the level of across-the-board integration of equality. These indicators shall also apply to AFD actions, with a view to obtaining accurate data for the next peer review by the OECD's development assistance committee ;

Monitoring and renewal of actions undertaken on MAEE's Social Funds for Development (FSD) to analyze current policies ;

Structuring and promotion of French positions in the various international bodies relative to gender equality ;

Monitored implementation of the FSP "Gender and economic development: women as contributors to development" and capitalization of the fund as a pilot program ;

Intensification and extension of working themes and partnerships with NGOs and foundations ;

Widespread appointment of "gender equality" correspondents in embassies and creation of a consultative structure ;

Development, conjointly with all relevant players, of methodologies and indicators based on existing models used at the European level or recognized by the United Nations ;

Organization of specific training courses for MAEE and AFD officers and diffusion of "best practices", including through academic publications or concerning the knowledge gained and lessons learned from the FSP.
Updated: 06.09.10