Key partners and French institutional system
Share
In France :

l'Observatoire de la parité, placed under the French Prime minister ;

National Advisory Committee on Human Rights ;

Ministry of Labor, Department of Women's Rights ;

l'Agence française de développement (AFD) ;

Coordination Sud ;

NGOs that have already integrated gender equality into their programs and actions ;

the association Genre en Action ;

local governments.
Multilateral organizations :

the Organisation for Economic Cooperation and Development (OECD) ;

the World Bank ;

the European Commission ;

the United Nations ;

the International Organisation of la Francophonie (IOF) ;

the International Labour Organization (ILO).
The gender equality and development platform convenes French players involved in gender equality twice a year. It plays an advisory role in guiding and monitoring French international cooperation and development policies.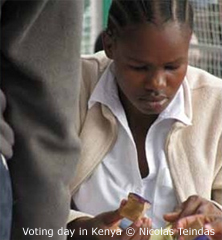 Updated 06.09.10
/B_liens_utiles>