Diagnosis
Share
Diagnosis
Without women's involvement and recognition of their contributions to society, development does not occur
Today's predominant situation often means women are excluded from development processes.
Wage equality does not exist anywhere, and unemployment, job insecurity and unskilled and part-time work primarily affect women. Despite the growth of micro-lending, investments that encourage women's economic empowerment are insufficient (€500 on average), short-term (six to twelve months) and have prohibitive interest rates (over 18% a year). Interest rates on loans granted to men are much lower. Certain studies have shown, for example, that if female farmers in Kenya were given the same financial aid as men, their land would yield over 20% more than that of their male counterparts.
Inequality in numbers
In Europe Women earn 15% less than men for every hour they work.

In Africa Women occupy only 15% of paid jobs and receive a mere 10% of the wages paid. Women account for 60% of the HIV-positive population in Sub-Saharan Africa and for 75% of new HIV-positive 15-24 year-olds in Africa.

In the world Women account for 70% of the 1.2 billion individuals who live on less than a dollar a day. They perform two-thirds of the number of hours worked in the world and produce half of the world's food. They receive only 10% of total income, and possess less than 2% of all land. They receive less than 5% of bank loans. Over 500,000 women die every year in pregnancy or childbirth. Of the 72 million children worldwide who are not enrolled in school, 55% are girls.
Too many girls not enrolled in school
In 2006, despite an overall improvement, countries in Sub-Saharan Africa were furthest from equality in terms of access to primary school. This gap is even more obvious in secondary education (Education for All Global Monitoring Report 2009, Overcoming Inequality: Why Governance Matters). School fees and facilities (lack of separate latrines), lack of safety (particularly in transportation), early marriage and sexual violence are some of the key factors explaining why many girls leave school when they reach puberty.
Migrant women at risk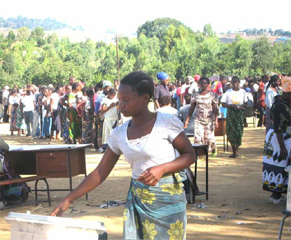 95 million women account for close to half of all international migrants in the world.
They form a large proportion of the globalized and "delocalized" labor in free zones. In 2005, out of 17 million African migrants, 47% were women, compared with 43% in 1960. This increase was particularly high in the sub-regions of Eastern and Western Africa. Women account for 50% of economic migrants and often migrate alone. Although migration is an oppor- tunity for some women, the rights of most are not respected, especially in the employment sector.
Out of today's 40 million refugees who have fled an armed conflict or massive human rights violations, 75% are women or children.



Excessive violence against women
Worldwide, one out of every three women has been raped or been the victim of some kind of abuse at least once in her life.
Traditional forms of violence (sexual mutilation, forced marriage, stoning, "honor" crimes) decline very slowly: there are 136 million female victims in 40 countries. In France, though one woman dies every other day due to domestic violence, these recurrent murders are presented as mere news items rather than a social deficiency.
Underpaying women a bad bet
Unpaid female labor in Africa is estimated to be worth more than $15 billion. The term "care" is used to refer to the invisible work of women (childcare, housework, and so on) that compensates for shortfalls in public spending, including education, health, and infrastruc- ture. The remuneration of this "care" would have a stimulating effect on economies and cause GNPs to rise by about 20%. Only 40% of women's labor is paid, compared with 80% for men. In Latin America, ending gender inequality in the job market could increase women's salaries by 50% and raise average national production by 5%.
Updated: 06.09.10