Laurent Fabius's participation in the meeting of the Core Group of the Friends of the Syrian People (London, May 15, 2014)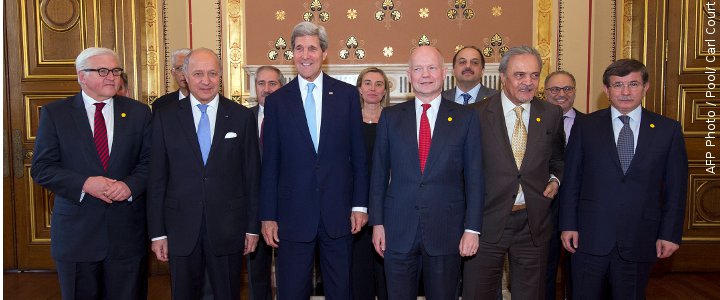 Laurent Fabius, Minister of Foreign Affairs and International Development, attended may 15 the meeting of the Core Group of the Friends of the Syrian People in London.
Following the ministerial conference hosted in Paris on January 12, this new meeting demonstrated that the Friends of the Syrian People group remains mobilized to oppose the regime's determination to forge ahead regardless. It provided an opportunity to reaffirm the common vision of the 11 member countries of the group and to coordinate their action which will focus on 4 key objectives:
to signal our determination to support the Syrian democratic opposition which ensures respect for human rights;
to reaffirm that only a genuine political transition, based on the full implementation of the Geneva communiqué endorsed by the Security Council, can put an end to the crisis and restore unity and stability in Syria;
to reaffirm that the sham elections organized by Bashar al-Assad in order to hold on to power have no legitimacy, that they will only serve to exacerbate the crisis and will not make us forget the crimes he has committed;
to reaffirm the Core Group's commitment to combating impunity in Syria, at a time when France has taken the initiative to table a resolution at the Security Council aimed at referring the situation to the International Criminal Court.
Read more
London 11 Final Communiqué (May 15, 2014)
---
Useful links