Egypt – Meeting between the minister of foreign affairs and his Egyptian counterpart (April 2, 2013)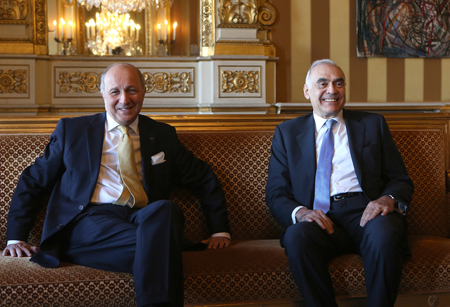 On April 2, Mr. Laurent Fabius received his Egyptian counterpart, Mr. Mohamed Kamel Ali Amr, for a working lunch followed by a press briefing.
This visit reflects the determination of both our countries to strengthen their relations of friendship.
The minister of foreign affairs and his Egyptian counterpart reviewed the transition process in Egypt. On this occasion, Mr. Fabius reaffirmed France's attachment to human rights, notably the freedom of expression, to women's rights and the right of civil society groups to freely organize themselves.
This meeting made it possible to identify numerous areas of convergence between our two countries. The two ministers discussed the prospects for developing our bilateral relations. They discussed the major regional and international issues, notably the Syrian crisis, the Middle East peace process and the situation in Mali, as well as the Africa-France Summit, which will be co-chaired by France and Egypt.
---